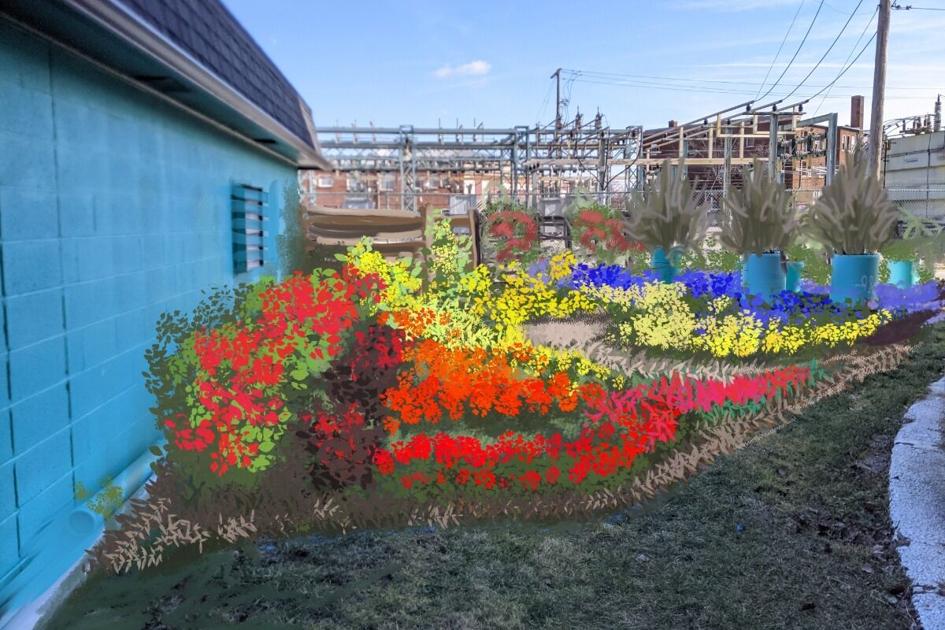 Public backyard intended for NoCo Arts & Cultural District in Jeffersonville | News
JEFFERSONVILLE — Downtown Jeffersonville will become much more vibrant this season with the inclusion of a new public garden at the NoCo Arts & Cultural District.
Local artist Tammy Burke is directing a project to deliver the brand new Paint Box Garden into the developing arts scene in Jeffersonville. The garden will be the corner between the colorful water tank mural and the NoCo Arts Center.
The concept of the Paint Box Garden is based on color theory. Red, blue and yellow flowers will be planted, and these primary colors will intermingle to create the appearance of secondary colors, according to Burke.
She aims for the backyard to be a "living work of art" to complement the public art in the NoCo Arts & Cultural District.
"It will be different than all the other public art works — it's a living thing, not a metal sculpture, not a painting, but something that ebbs and flows, and people will be involved with it through time. In essence, it is soft on the earth — it is a plant, and it draws from the earth and gives back."
Burke is one of the residents at the NoCo Arts Center, where she has a studio. As she was walking her dog last summer, she said she was thinking "this place needs a garden."
She is an amateur gardener herself, and Dawn Spyker, former public art administrator for the City of Jeffersonville, encouraged her to come up with a plan for the garden.
She talked to Emily Dippie, the new public art administrator, and presented the idea to the Jeffersonville Art Commission. A private donor learned about the proposed project and provided $1,700 in seed money to get the project started.
Earth First has also offered soil, compost and mulch to support the garden, Burke said. She set up a GoFundMe with a $3,300 goal to support other expenses associated with the project.
Burke said her goal is to secure enough funding for the project in March and set up fencing in April. By May, they hope to have all the plants in place.
The garden will probably be accessible to the public with a paved path leading to and into the garden. Burke said offering an interactive environment will be a major focus, and the garden will include flowers such as marigolds and indigo that can be used for dyes, which will open doors for hands-on activities for families.
The garden also will be filled with pollinator plants, and it will bring life to what is currently a nook with "just grass, mud and some PVC pipes," she said.
Karen Bryant, a master flower gardener who owns Bloomin' For You from Charlestown, is designing the garden, along with Utica resident Bob Hill is volunteering his gardening skills to this project.
For 20 years, Hill and his wife operated the Hidden Hills Nursery & Sculpture Garden at their home — the nursery operation closed in 2018. He is also on the board of the Waterfront Botanical Gardens in Louisville.
Hill said this project is in his "wheelhouse," or his garden-house, and it is a great way to give back to his community. He is donating both his time and fencing for the garden.
"I can just imagine the butterflies flitting in and out of there and the rest of the bugs that come with it," Hill said. "it will just be a nice, peaceful walk."
Bryant looks forward to sharing the backyard with those community.
"A lot of people have gardens, but they are in their own yards and they don't get to share them," she explained. "This will be one that the community can take part in as well."
The backyard is designed into provide an immersive experience.
"People are really going to want to get in there and get a closer look at the plants, and I think it's going to be really beautiful," Bryant stated. "We're putting in a pathway so people will really be surrounded by the flowers and really experience the garden."