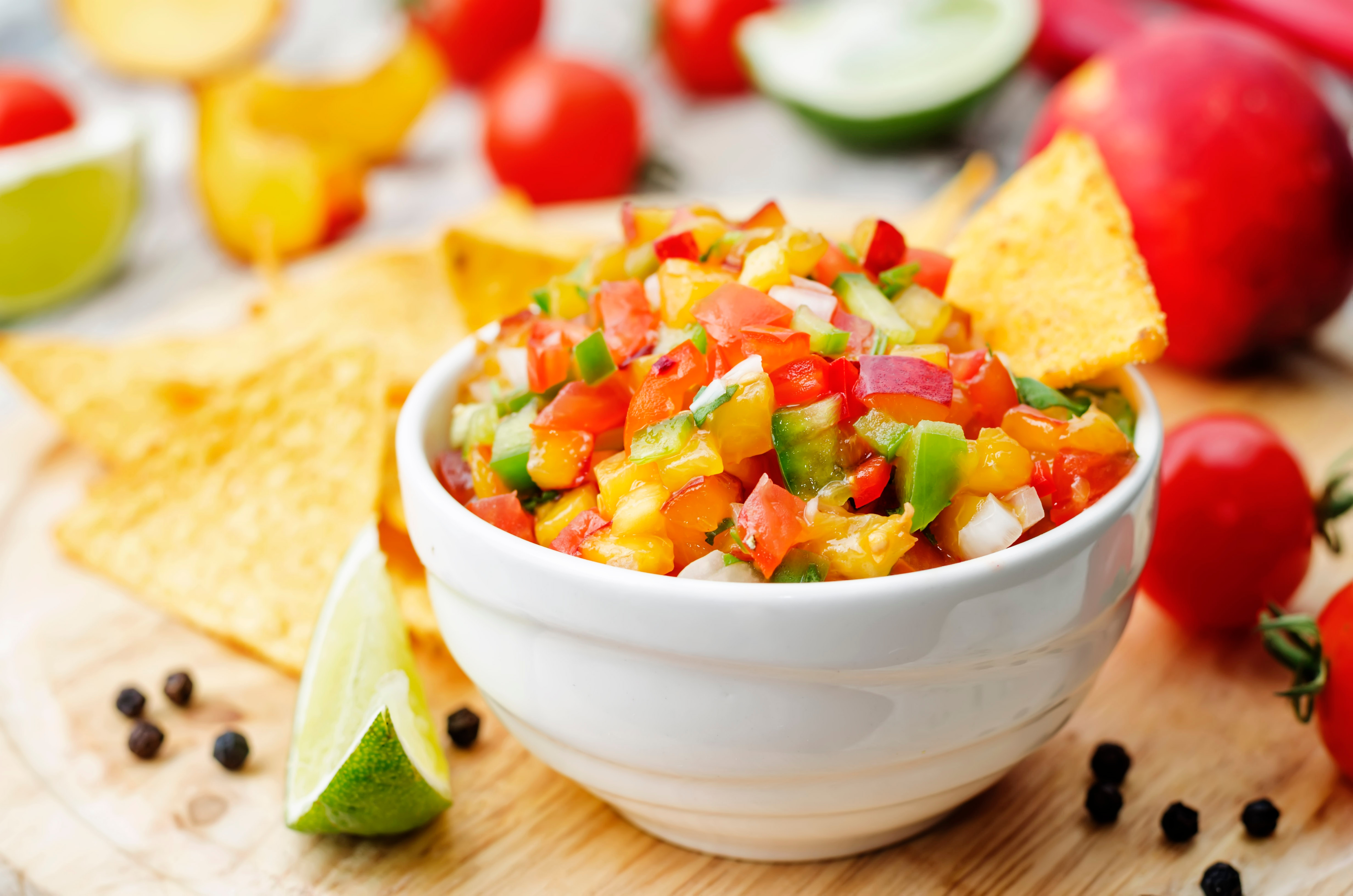 Easy and Quick Pico De Gallo
If I could have garden fresh pico de gallo readily available all the time, I wouldn't complain. Out of all the recipes I made with my garden harvests over the summer, this was my easy and quick go-to.
Grab a hand full of tortilla chips and dig into this delicious salsa. 
It made me so happy to be able to grow most of the ingredients for this recipe right in my own vegetable garden this summer. I grow in zone 6a Massachusetts.
When I'm picking out things like bell pepper seeds to grow, I make sure to look for varieties that mature quickly. I also look for varieties that can be grown in small spaces since I grow in raised beds. Here's everything I grew to make some garden fresh pico de gallo!
King Of The North Bell Pepper (68 days) When they say this pepper has a heavy yield, they are serious! I've always had trouble finding an early maturing pepper that is a solid producer. This pepper is perfect if you are a Northern gardener. I've added it to the list of seeds I will be growing year after year. You can find them here. 

Early Jalapeño Chili Pepper (60 days) These peppers have the perfect kick for any pico de gallo or salsa recipe. It's important to note that this variety does have a lower yield than other hybrids. This can be remedied by sowing a few extra seeds. These plants produced well and gave me some great harvests! You can find them here. 

Lunch Box Pepper *Optional* (55 days) I love throwing in a few of these vibrant beauties when making some pico de gallo. They are sweet, mini-sized peppers with a great flavor. This variety has an excellent yield and is one of my favorites. You can find them here.  

Gardener's Delight Cherry Tomato (65 days) These delicious tomatoes truly are a delight. The plant is compact and perfect for small spaces. The vigorous vines grow 6′ tall and produce clusters of 6-12 tomatoes. You can find them here.

Patio Choice Yellow Cherry Tomato (45 days) This is the perfect early maturing cherry tomato for raised beds. They are disease resistant with big yields. The 1″ diameter yellow cherry tomatoes are full of flavor! You can find them here. 

Cabernet Red Onion (100 days) This variety produces medium to large globe shaped onions with a gorgeous deep red color. They have a great flavor and you can store them up to 6 months. You can find them here. 

Italian Flat Leaf Parsley (60 days) This is the type of herb where if I have an open spot in my garden with nothing growing, I'll throw it right in! It's super easy to grow and I just love it. It has excellent flavor, is easy to chop and also works perfectly for drying. You can find them here. 
The Biggest Secret To Growing The Best Ingredients? 
Grow varieties that do best in your climate. If you live in a climate with a short season like mine, look for early maturing vegetables. Trust me, it makes a big difference in success. It's such a satisfying feeling picking and harvesting your hard work and turning it into something delicious!
So, what exactly is the difference? I actually didn't know until I started making all of my summer favorites fresh from the garden! I learned that it's all about consistency.
Pico is served chunky, raw and hand chopped. With salsa, it's blended and has a more of a liquid consistency. Also, salsas will include ingredients that have been boiled or roasted (like the tomatoes). 
Switch It Up!
Bring On The Heat – Are you all about heat? Substitute your jalapeño peppers with some Serrano peppers. Feeling extra brave? Try a habanero out!

Make It Sweet – Add in some pineapple or mango to switch up your regular recipe! 

Add Some Flavor – Excellent additions to pico de gallo are avocado, corn kernels and black beans just to name a few. 
Easy and Quick Pico De Gallo
Angie Rose
If I could have garden fresh pico de gallo readily available all the time, I wouldn't complain. Grab a hand full of tortilla chips and dig into this delicious salsa!
Cutting Board

Chefs Knife

Medium Sized Bowl
1 Cup

Red Cherry Tomatoes

diced

1 Cup

Yellow Cherry Tomatoes

diced

1

Large Jalapeño Pepper

chopped (seeds removed)

2

Green Bell Peppers

chopped (seeds removed)

1/2 Cup

Red Onion

diced

1 Clove

Garlic

minced

1/4 Cup

Flat Leaf Parsley

roughly chopped

1

Lime

Salt & Pepper For Taste
Dice and chop your tomatoes, peppers, onion, garlic and parsley.

Add your diced and chopped vegetables & herbs into a medium sized bowl.

Squeeze the lime over ingredients. Sprinkle in some salt and pepper.

Give it a taste test. Add more salt and pepper if necessary.

Cover bowl and let chill in your fridge for 20 minutes.

Enjoy with tortilla chips!
Your pico de gallo can be refrigerated in a sealed container for up to 5 days. 
Do you have any pico de gallo tips and tricks? Share with us in the comment section below! As always, thanks for reading and happy gardening!